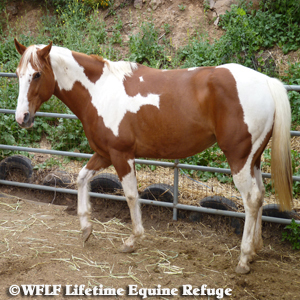 WFLF is dedicated to the lifelong health and well being of each animal it rescues. We work around the clock to provide emergency rescue and care services to equines in need and must conserve precious resources in order to do our work and save as many lives as possible.
Adopted equines under WFLF's adoption program can live out their lives; sometimes for decades with their adoptive guardians as long as the adopter meets WFLF's Standards of Care for the equine they adopt.
Benefits of Adopting
If compassion in the stewardship of animals is important to you, we welcome and encourage you to adopt a rescued equine from Wild for Life Foundation's Lifetime Equine Refuge. As an adopter, if something happens to you and you can no longer provide the Standard of Care for the equine(s) you've adopted, you'll be able to return them to a WFLF- LER rescue facility. And WFLF will help you meet the challenge of keeping health records in order. WFLF will also keep on file the health care records that we collect from you over time for each adopted equine. Upon request, those records can later be made available to the adopter to help insure that the assessment of proper medical care can be obtained as needed.


Putting the Welfare of Each Rescued Equine First
It is essential to the successful long term placement of each animal that each adoption and foster applicant's understanding and agreement of WFLF adoption terms are fully confirmed prior to completion of the process.
As part of WFLF's adoption application process, each applicant is provided as much time as they need to thoroughly discuss and understand our Standards of Care, adoption provisions, policies and guidelines prior to submission and, or completion of the adoption application.
Protective provisions provide WFLF with a means to responsibly insure the safety, welfare and future of each animal it holds title for, and also to monitor and enforce the terms/policies and Standards of Care, which reflect WFLF's mission and objectives. WFLF requires adopters to submit updated equine medical receipts and health records for each adopted equine under their care. WFLF also retains the right to do random physical checks on each rescued equine that we adopt out.
The requirement for proof of care by the adopter reflects our commitment to WFLF's mission, our rescue and adoption program and policies, and also provides assurance to the equines that we rescue, the community in which we serve, as well as WFLF's constituents, that the safety and welfare of each equine rescued by, or surrendered to WFLF will always be cared for in a manner consistent with WFLF's Standards of Care, and will always be protected from cruelty, abuse, neglect, abandonment, sale, lease, slaughter, or the use in activities such as racing, rodeo, tripping, and auctions... regardless of whether or not that animal resides on site and under the direct care of WFLF, or off site and under the care of an adopter or foster care provider.
The title and permanent health record for each animal is retained by WFLF for the life of each animal and will include vital information such as vet records, vaccines, farrier treatment, dentistry, feed, housing and exercise, etc, relevant to his daily and ongoing health needs. It is crucial to our mission to have these records up to date at all times.
Vet/ health care records are needed so that we can update each animal's file. Consistant with WFLF's best practices which represent the best interest of each animal we place for adoption, the conservation of precious resources and the ability to save more lives, WFLF-LER requires adopters to provide health records and up to date photos to WFLF on a regular basis.
---
BECOME A FOSTER CARE PROVIDER

1. Join WFLF's SAFE HAVEN NETWORK


2. Request Foster Home Application, fill out and return.
3. Meet with one of our representatives to discuss your needs and desires to have guardianship over one or more rescued horse(s).
4. Learn, understand and agree to WFLF's Standards of Care Guidelines
5. The boarding facility that you select or your own barn must meet our guidelines and will be visited by one of our representative.


Type of membership:
Adult - $25
Family - $50
Lifetime - $1,000 (includes free gift)
Sponsoring member:
$100
$150
$250
$500
---
To request Foster/ Adoption application: