---
Lifetime Equine Refuge is proud to extend a very special thanks to Dr Elliot Katz of In Defense of Animals for being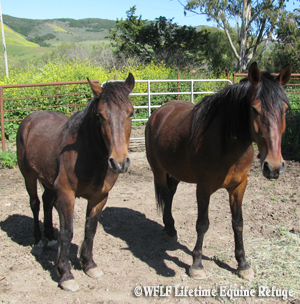 there to help us save Papala and Tawaci, two Mustangs that were recently bound for slaughter.  IDA generously donated the needed funds for their bail and transport.  It really came down to the wire for these two once free roaming wild horses, but this was a collaborative rescue effort. We would also like to extend a very special thanks to Neda DeMayo of Return to Freedom for being there to help with QT and toward facilitating the adoption of these two Mustangs.
When you donate to Wild for Life Foundation (WFLF), Lifetime Equine Refuge, you make our successful campaigns possible!
---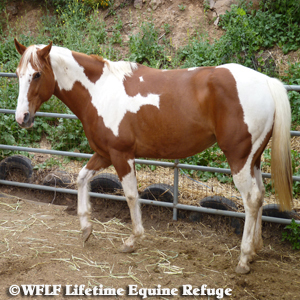 Gracie is a beautiful Paint Quarter Horse mare that had been used for breeding and when she couldn't produce any more, Gracie was dumped.  We would like to extend our appreciation to Saving Horses Inc for their generous support in helping us to facilitate her rescue. We rescued Gracie and found a foster care home for her in April 2010 at Mustang Spirit. Gracie is doing very well.
---
Gypsy and Smudge are two Mustangs that were rounded up and removed from their legal herd area in Northern CA, by the BLM. They went through the adoption process and were trained by a reputable wild horse trainer, but these two free spirited wilds just were not cut out for a life of domestic servitude. Their previous owner later relinquished them to a person they thought would provide a good home for them, but sadly they were "scammed" and these two very special horses wound up on a feedlot bound for slaughter. Shelby is another rescued Mustang that came from the same herd as Smudge and Gypsy at the Carter Res HMA. Shelby too had been down the long road of post BLM adoption and recently found herself orphaned.
---
Whether it was luck or meant to be, these three Mustangs eventually wound up back together again. WFLF Lifetime Equine Refuge has taken them in and they have become part of the family herd under WFLF's foster and sanctuary program care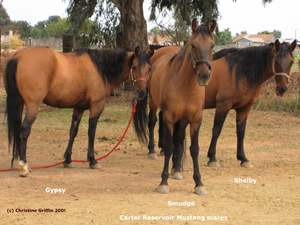 .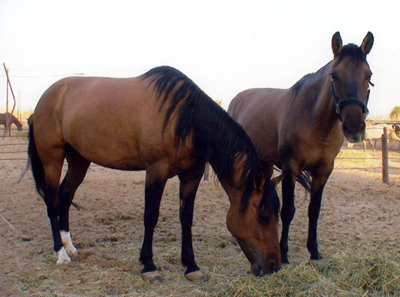 Through the generosity of Michael Blake; Shelby, Gypsy and Smudge are now living out the their lives together in peace. Michael has a lifetime of experience with both wild and domestic horses. He is dedicated to their well being and has created a special sanctuary for them to call home.
This rescue has been a collaborative effort and we are thankful for the assistance of Saving Horses Inc, Gentled Mustangs and the Fans of Barbaro for their generous support.
Learn more about wild horses and burros and their need for support by the American people. WFLF is exposing the truth about the BLM and the slaughter industry. Learn more at "Saving America's Horses A Nation Betrayed".