About WFLF's Safe Haven Rescue and Recovery Network
WFLF's Safe haven Rescue and Recovery Program is a community network to assist horses in your area that need help.
If you have reviewed Wild for Life Foundation Life Time Equine Refuge (WFLF-LER) Foster Guidelines / Standards of Equine care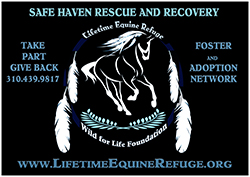 and would like to begin the foster approval process, email us your name, address and contact information.

Fostering a horse in need is a wonderful experience to both the horse(s) and the foster family. It's a stepping stone of healing and training that gives a horse the one-on-one attention they need with the assurance of a safe and secure future!
Why does WFLF-LER use foster homes?
WFLF Safe Haven Foster Network allows us to keep overhead costs down and save more lives. Through WFLF's Safe Haven program horses are assured safety and individualized care allowing them to heal and progress through the rehabilitation process in the most soothing environment possible. You can never replace the nurturing one-on-one attention provided by a wonderful foster family.
What are WFLF's foster requirements?
Foster facilities must be adequate and safe for equine. No barbed wire allowed for fencing and horses must have access to shelter if needed from inclement weather (can be a stable/barn or run-in shed. Run-in sheds should have sufficient walls to protect from wind/precipitation). Veterinarian and farrier references are required on the application. For more information please refer to our guidelines for Standards of Equine Care.

How does the foster process work?
Potential foster homes first need to fill out a foster application. A WFLF Safe Haven representative will contact them to discuss fostering. After this initial interview, WFLF will schedule a facility check and call vet/farrier references. Once the foster home is approved, WFLF will match the foster with a suitable horse(s) for their equine experience level.
Join WFLF's Safe Have Network today

Download WFLF's Standards for Equine Care