Founded in 2008, the Wild for Life Foundation (WFLF) has served 1000's of at risk horses and burros and continues to aid a steady stream of rescue horses in need.
Wild for Life Foundation - Lifetime Equine Refuge
OUR MISSION
ABOUT LIFETIME EQUINE REFUGE (LER)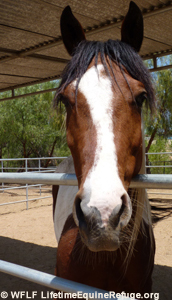 The Lifetime Equine Refuge is the primary lifesaving equine rescue and sanctuary program under The Wild for Life Foundation, (WFLF) a nonprofit 501 c3 charity dedicated to saving, protecting and preserving equines. We work to ensure the preservation of wild equines and the humane treatment, care and well-being of all equines. WFLF aims to provide children, at-risk youth, active duty military and veterans access to equine assisted learning, psychotherapy and humane education that strengthens the bond between horses and people while caring for and rehabilitating rescue horses. WFLF strives to inform, inspire, and empower the public for the greater good in saving, preserving and protecting wild and domestic equines and their significant roles in our world's society, ecosystem and history; for a better world now and for generations to come.
The Lifetime Equine Refuge provides hands-on rescue to neglected, injured, starved, displaced and slaughter bound horses of all breeds, ages, genders and disciplines. We provide emergency veterinary medical care, food, shelter and a 2nd chance at life for rescued wild and domestic equines across the US. We facilitate the rescue of and provide for the long term sanctuary of wild horses removed from America's rangelands. We accept owner surrender companion equines on a limited basis and we work with law enforcement officers who seize abused companion animals. We rehabilitate and re-train at risk rescue horses in need of transition due to injury and other potentially life threatening situations, and facilitate appropriate placement based on the individual needs of each rescue horse. We use natural horsemanship methods to advance compassion and improve the effectiveness and safety of our life changing equine rescue and sanctuary program. We work to elevate responsible equine guardianship through compassionate mentoring and equine assisted learning, and strive to provide learning experiences that build meaningful connections between horses and people.
LIFELINE LEGACY
The Lifeline Legacy Circle is a devoted and loyal group of individuals and families who are an invaluable part of Wild for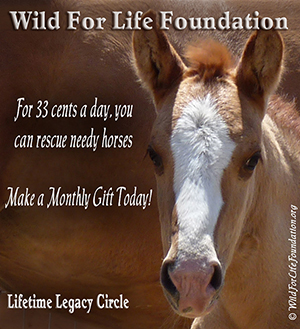 Life Foundation's lifesaving mission. Through monthly gifts of $10 or more, Lifeline Legacy Members help some of the neediest equines who arrive at the Sanctuary, animals who have special physical or emotional needs. With the monthly support of Lifeline Circle supporters, we make sure they get the medical care, time and attention they need to heal and find their forever home.

Monthly giving is the easiest way to support the lifesaving mission of Wild For Life Foundation. Your monthly gifts provide a consistent, reliable income stream that allows us to end the suffering and the killing. Most have suffered serious trauma, physical or emotional, or have painful or debilitating conditions that can require expensive medical care. But Lifeline Legacy supporters make it possible for us to tackle whatever case may come through our doors, and assure that these vulnerable victimized horses will never be at risk of abuse, neglect, roundup or slaughter again!
Become a Lifeline Legacy Circle member - Make a monthly pledge today
SAVE HAVEN NETWORK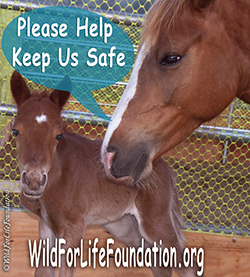 Our foremost mission is to provide forever safe harbor to each and every rescued horse and burro coming into our rescue and sanctuary program. Lifetime Equine Refuge is built on WFLF's high standards and best practices which lay the foundation for the best quality care and placement of all rescued equines under WFLF's umbrella. We implement high standards and strict safeguards in our guidelines for equine care to provide the assurance of safe housing and loving care for the lifetime of each rescued equine through WFLF's Forever Safe Harbor Mission.
SAFE HAVEN EMERGENCY RESCUE AND RECOVERY
We rescue and evacuate equines from life threatening situations and disaster. We partner with animal control services to facilitate and provide for the rescue and placement of equines seized in animal cruelty cases. We partner with caring members of the equestrian community, including equestrian centers, and trainers that wish to give back to America's horses. These kind and compassionate partners provide in-kind services and goods in support of WFLF's equine rescue, recovery and rehabilitation program. Through WFLF's Safe Haven Emergency Rescue and Recovery, we serve the community needs of at risk equines both locally and on a national level. Join WFLF's Safe Haven Network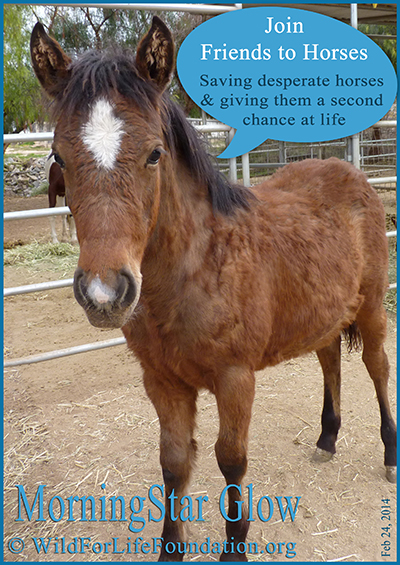 FRIENDS TO HORSES
Morning StarGlow is one of the littlest orphan Navajo foals rescued in October by WFLF's NHRRM. She is growing and thriving at WFLF's Lifetime Equine Refuge in CA! As an Ambassador for other desperate horses needing rescue and support, Morning StarGlow is sending out an urgent plea so that more horses like her can be rescued and assured forever safe harbor.

Please join our "Friends to Horses" campaign! We are looking to rally 2,500 horse lovers who are generously willing to donate $10 a month to help us off-set the cost of food, medicine, and shelter for our rescue horses. Each reoccurring 'Friends to Horses' member enables us to continue our meaningful work of saving desperate horses and giving them a second chance at life! Please help spread the word… And thank you for helping us help the horses!

You can help us raise the necessary funds to save precious lives by sharing and giving. But time is of the essence. Your donation in any amount will help save lives today!
NAVAJO HORSES RESCUE AND RECOVERY
The Wild for Life Foundation founded the Navajo Horse Rescue and Recovery Mission to address and provide for the urgent needs of horses and burros found in life threatening situations due to the Navajo Nation roundups. Volunteer rescue members from the Wild for Life Foundation's Navajo Rescue and Recovery Mission are putting their lives on hold to rescue, recover, evacuate and provide care for these survivors; to assure they will never be subject to roundup or slaughter again. You can help - (Learn more/ take part/ support this mission)

FRIENDS OF KOLA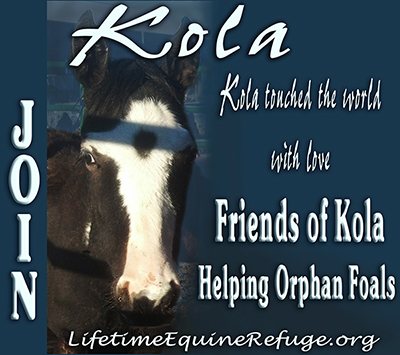 Saving the lives or orphan foals in need; Inspired by and in honor of Kola the orphan Navajo foal who lost her mother to slaughter at just 10 weeks old; the Friends of Kola is a membership program open to the public. 100% of each member's monthly gift goes directly to toward the urgent needs of rescued orphaned foals - from vet medical care to milk-replacer feed, to urgent lifesaving transport. Kola's Legacy Lives On

RESCUE PROTECTION SANCTUARY
Through our RESCUE PROTECTION and SANCTUARY program we provide safe harbor to equines in need. We provide a peaceful and safe environment with a focus on healing. Humane education and compassionate mentoring serve to raise awareness and self confidence. Various modes of equine healing activities are combined with natural horsemenship for the provision of effective life-changing services safely, that advance natural partnerships between horses and people.

BACK TO THE WILD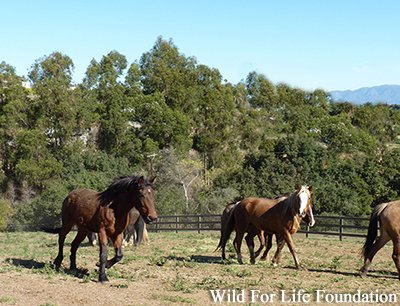 Central to our Mission is our commitment to help see that wild Back to the wildequines are able to remain in the wild. WFLF's BACK TO THE WILD program works to preserve and protect the lives of rare and historic wild equines as part of the natural ecosystem and educate people about the need for the preservation of these threatened equine species. WFLF accomplishes these objectives through 1) rescue, sanctuary and preservation services provided to at-risk wild equines who have lost their freedom, their families and their open range-land homes in the wild, and, 3) setting up wild equine preserves 2) advocacy and education. WFLF's preservation methods implement ethical and sustainable ecological values and healthy nonlethal conservation practices for the protection and preservation of threatened and endangered wild equines from extinction.
(Learn more)

SANCTUARY OPEN SPACE LAND ACQUISITION
Since our beginning in 2008, the number of animals coming into our program has grown exponentially, from just a few animals annually to more than one hundred each year. While Wild For Life Foundation's skilled staff has met the challenge and the organization has been able to grow in a fiscally sound manner, our current facilities are proving inadequate to keep up with this exploding demand. While this is a good problem to have, we recognize that we must expand to continue to meet this growing community need with quality programs and services. WFLF's acquisition of equine sanctuary land is essential to our ability to respond adequately to the rapid pace in growth in the numbers of animals that we serve. This vital land acquisition will enable WFLF to continue to provide safe sanctuary for countless wild and domestics equines in need for generations to come.

OPERATION THOROUGHBRED
OPERATION OTTB is our Thoroughbred rescue and sanctuary program for Thoroughbreds in need, that were bred and raised for racing. We save, rehabilitate and re-train off track Thoroughbred racehorses for a second chance at life. We provide for their ongoing care through sanctuary and facilitate appropriate transition into equine assisted learning and therapy, and new loving homes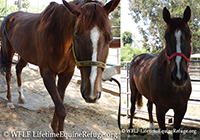 through our conditional adoption and foster care programs.
The mission of our Thoroughbred rescue and sanctuary work is to rescue Thoroughbreds bred and raised for racing from slaughter, neglect and abuse, and to provide a safe-haven for them with needed vet care, feed and shelter, and to rehabilitate and re-train off track Thoroughbreds for appropriate transition to new careers. Through our humane education program we raise awareness about the need for aftercare programs for off track Thoroughbreds; responsible horse ownership, including the need for humane end of life care, and the need for responsible breeding within the equine community. Meet some of our rescued Thouroughbreds

SANCTUARY LAND TRUST
The Wild For Life Foundation Land Trust seeks and accepts lands, and conservation easements on lands, that provide value to wild equines and other forms of wildlife. The Wild For Life Foundation Land Trust celebrates, protects and preserves wild animals and the environment by creating permanent sanctuaries, preserving and enhancing natural habitat.
SECOND CHANCE
The Second Chance Program is crucial to the successful placement of rescue horses which in turn helps the Wild for Life
Foundation to address the increasing number of horses which keep coming into our program. 100% of the donations received into the Second Chance Fund are utilized for the rehabilitation and retraining of horses, thereby alleviating the strain of housing for rescue horses as they heal and prepare for their new lives. The Second Chance Fund is a vital organ to sustaining operation growth.

SAFE AT HOME
Our Safe at Home Program provides emergency in-home-rescue assistance and ongoing stewardship to help reduce the number of horses that are displaced from their homes. We provide in-place rescue to assist dedicated but financially challenged horse owners with lifesaving feed for their equines so they don't have to choose between feeding themselves or their dearly loved horses.

Support our Equine Rescue Work
WFLF LER provides hands-on rescue of neglected, injured, starved, abandoned and slaughter bound horses of all breeds, ages, genders and disciplines. Through these efforts we are able to assist those most vulnerable in the equine community.
Considerable feed, hay, veterinary medical care and supplies are needed in order to continue our work. Your meaningful donation in any amount will help save lives today.