EQUINE CARE VOLUNTEER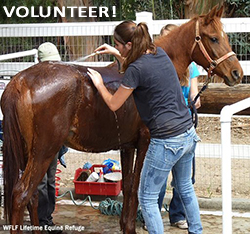 Equine Care Volunteer: Help rescue horses in need by volunteering. Volunteer positions in both skilled and non-skilled categories are available.

General volunteer chores include: mucking stalls, grooming horses, caring for ranch animals including the goats and chickens, yard work - weeding/ gardening, repairs- sanding/painting.
Skilled volunteers also needed: feeding, ground work, turn outs, socialization, picking, transport and 1st aid.
Contact Us about volunteering today