JOIN FRIENDS OF KOLA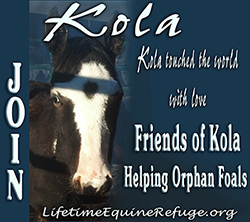 Helping orphaned Foals - Two Ways to Help
Inspired by and in honor of Kola the orphan Navajo foal who lost her mother to slaughter at just 8 weeks old
Kola's Legacy Fund
Make a one time donation
Join "Friends of Kola"
Pledge a Monthly Membership Gift: Monthly giving is an incredibly efficient way to support our lifesaving work. Your monthly gift provide a consistent, reliable revenue stream, allowing us to focus more time & resources on saving lives during times of crisis, and less on fundraising.
100% of each donation goes directly to toward the urgent needs of imperiled mares and foals.
Your kind gift will help provide for the urgent needs including vet medical care, milk-replacer feed, hay, transport and housing. With your support WFLF will be able to more effectively respond to crisis and build capacity so that more lives can be saved. Make a difference - donate today.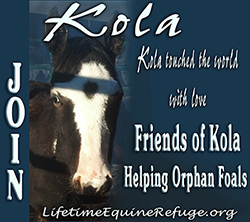 Kola's sweet gentle spirit will live on forever as a true Ambassador for the world's horses. This brave little warrior taught by example of how to forgive and trust in the face of betrayal… and how to be strong against all odds. She lived her short life with honor and courage. And, just as she looked out for her family of orphaned foal friends, Kola now continues to watch over all the little foals.
Kola was found, weak and in a state of shock at a local stockyard, together with several other orphaned foals, many of which like Kola, were just weeks old. Too young to be weaned; their lives were in grave danger after losing their mothers. They were rescued and evacuated out of New Mexico by the Wild for Life Foundation (WFLF) Navajo Horses Rescue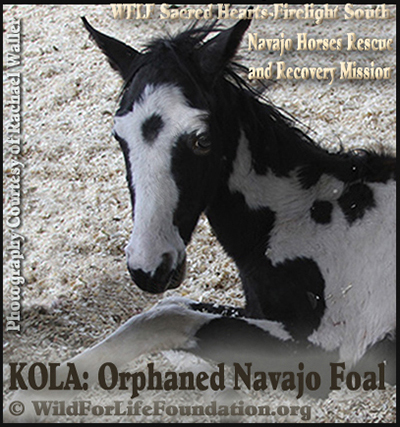 and Recovery Mission. Deprived of their Mother's milk to nourish and protect them, it would now take many months to restore their delicate systems with special milk-replacer feeds and immune building supplements to help them be able to grow and thrive. Expert equine veterinarians and professional rescue team members worked around the clock day in and day out to help these little horse babies recover.

Kola and her friends had the hands of angels upon them and were bathed in love from the time they were rescued. However for sweet Kola her struggles were far beyond what anyone could imagine. Kola was a fighter and a survivor, but she could not withstand the injuries she sustained as a result of the brutal roundups, and losing her Mother at just 8 weeks old. Kola was surrounded in sacred beauty through to her final moments by the entire team of kind and compassionate veterinarians and loving volunteers who never once gave up on her.
The significant marking of time in the lives of these sacred Navajo foals, sends a powerful message of just how delicate and precious life is, and how important it is to protect and honor these majestic beings. These holy and sacred Navajo foals are healing our hearts and showing the world how horses and burros can in truth heal our lands. Through Kola's inspirational story of courage and survival, she will continue to strengthen our hearts and bring us hope for generations to come.